Just over one year on from becoming a full-time gardener and just when I have started to feel comfortable and on top of everything in my garden, the next big test has arisen. A second brand new kitchen garden at Bishopstrow House, our sister hotel in Warminster! The mission is to transform the lost productive gardens of the original manor house back into full productivity. It has been in the pipeline for a while and is now well underway. A beautiful space bordered by the River Wylye and a long south-facing wall with a doric rotunda as the centrepiece; all governed by a magnificent Lebanese Cedar and giant Sequoia tree. Amongst these, we will fit a kitchen garden that follows the same no-dig blueprint as Homewood, which it will work in conjunction with, to supply fruit and vegetables to all three hotels within the collection. "Shouldn't be too hard" I initially thought. I have good contacts for large pieces of cardboard now and a reliable supplier of well-rotted manure. These and a wheelbarrow are all you need to start a no-dig kitchen garden. Of course, the river garden has brought its tests and tribulations. Access is currently very restricted through a low, often flooded tunnel, the ground uneven and the whole area has been neglected and unloved for many years.
The tasks we've been undertaking over the last month were not glamorous nor lent themselves to pretty photographs, especially when the rains earlier in March and a lot of activity on the soft chalky soil made for a giant mud bath. But progress has been made, beds are in place and I even managed to revive the remains of an abandoned polytunnel. With the area at Homewood thirty per cent bigger than last year and the area at Bishopstrow not far from that, I cannot manage them both on my own. So with the help of Bishopstrow's new head gardener, Jenny, we have assembled a small team to help get the area ship-shape for the growing season and deal with the big challenges ahead.
Whilst neither glamorous nor showy, this feels like an important time in the gardening year; it's going to set the standard for the rest of the year and time that can't be had again. Deliveries of bulbs, seeds and plants keep on coming. I tried to do one order for the whole year, but many smaller orders have followed. If there's one thing I have learned from last year, it's not to be caught short, so I am already stocked up with enough modules, seed trays and compost to keep me going for months at a time.
Trials of three peat-free composts produced a unanimous winner. Sylvagrow passed with flying colours, seeds germinated faster and grew with more vigour than its two competitors, one of which looked like it was just shredded wood shavings. We are urged to use peat-free compost but there are some awful ones out there. I am happy to use Sylvagrow but I'm not convinced it has close to the same water-holding properties as its peat-based counterparts. 
What I've loved most about March is watching how nature has responded to changes in temperature. A warm spell propels spring bulbs into rapid growth, the same for overwintered spinach whose quality and quantity have been incredible. Now is peak time for the dark green leaves as there are enough daylight hours for growth but it's not warm enough yet for pests like slugs or aphids to rear their heads and spoil the crop. It shall not be long though.
Overwintered salads such as rocket, corn salad and mustard frills have shot straight up and bolted. When they bolt they put all their energy into flowering rather than leaves, and there's no changing their mind once they've started so they need to be removed. I hadn't expected this to happen so soon. Summer lettuces are still in the seedling stage, so I need to find a solution to avoid a gap in the changeover from winter to summer leaves.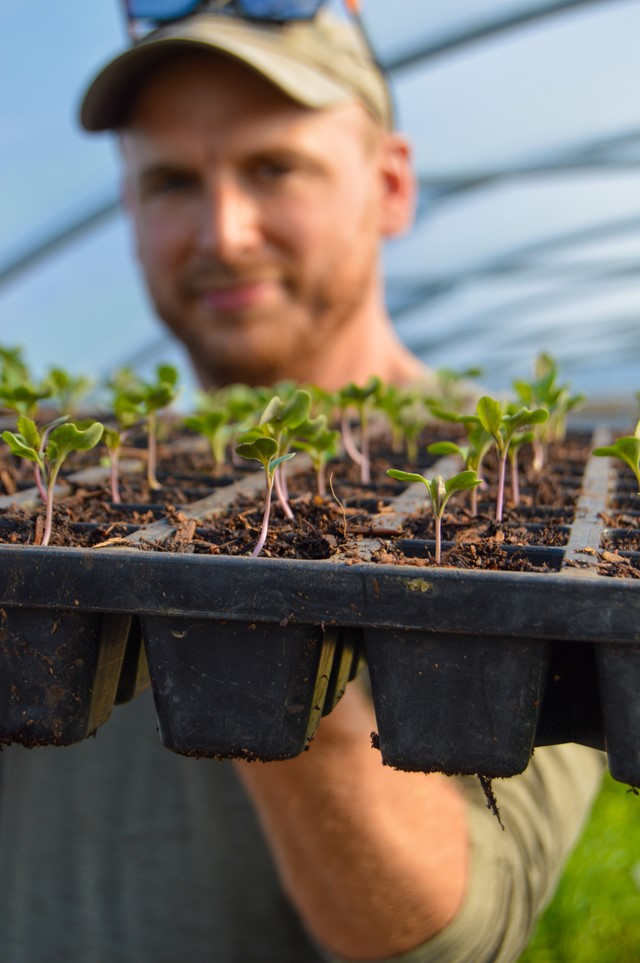 Seedlings of dozens of other salads and vegetables are filling up the polytunnel as I write in what is aptly named the 'Spring squeeze'. Working conditions will no doubt vary in April from uncomfortably wet, cold and muddy to occasionally wonderful when you can feel the sun's warmth, and you may see a drowsy bumblebee stray across your path. Take note of the bursting colours of spring bulbs on these days and soldier on, knowing that our efforts will soon be richly rewarded.
Happy sowing
My new recipe is up - GARDEN RADISH, WILD GARLIC SALT AND BUTTER
Until next time…
Darren Stephens
Chef-Gardener, Homewood