One of the big questions regarding starting the kitchen garden was what will I do during the winter? Take my holidays… plan for spring? I really didn't know what to expect, well after a very prolonged and mild autumn, winter is now here and there are still harvests to be made, ground to clear and tidy, soil to feed, new beds to make and structures to build. So I'm staying just as busy, just less back and forth delivering harvests to the kitchen.
The days are now shorter, colder and wetter so what grows this time of year? Well, growth is slow, even with the recent relative warmth in November. It's the quality and amount of sunlight that effects growth above all in the garden. Salad and herb leaves are now more compact than they were… making picking take longer. This has been an advantage for land cress though (a very frost hardy relation to watercress) whose leaves are of better quality each time I pick them and have more of a mouth-filling flavour now the frosts have got to them. The sprouts, kale, spinach and celeriac in the garden should benefit from frost too, their flavour sweetens as their starches turn to sugars; their own kind of antifreeze mechanism as sugars freeze less readily.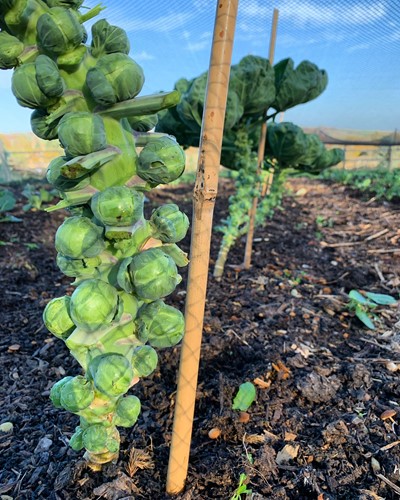 To my amazement coriander in the polytunnel is still flourishing, a herb I never would have guessed would do well in these conditions. Chervil also seems happy and is great at bulking up the salad mix.
Another surprise is the spring-like growth from the garlic cloves planted 8 weeks ago, however, whether they last the winter waits to be seen. Beds of winter leeks and purple sprouting broccoli are ticking along nicely and should be ready for action in January. All of the picking now only takes one day a week; I do it on a Thursday, ready for the weekend. I always hope that it's not too frosty a morning, I'll begin in the tunnel with the rocket and herbs before I can't put it off any longer and work my way outside.
I now have to wear rubber gloves when washing the produce outside in big flexible buckets, before taking them to the kitchen. The water is so cold it's torturous; I remember in summer I would plunge my head in the bucket in an attempt to cool down! Thankfully the cold weather makes pests inactive, like flea beetle, so all my brassica leaves can finally remain clean of holes…until spring at least. A pest that continues to be… a pest, are aphids. They persist at stunting growth and distorting the leaves on spinach and red chicory in the tunnel. I am currently trailing neem oil, used as a horticultural soap, to kill them on contact by gumming them up - I shall update if this is effective.
Feeding the beds is a big part of a no-dig garden and this is where the compost bays now take centre stage. I have 6 bays about 1m3 each. I started off with 3 but kept building more as the waste kept piling up over the year. I take waste from all over the hotel, spent coffee grounds, egg boxes, food waste, ash from the fires and all old cut flowers along with all the green waste from the garden.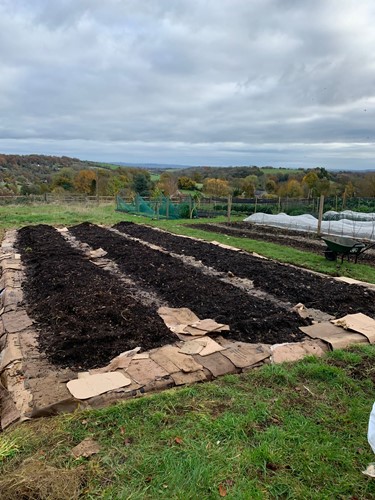 I look after them like I would look after a big pan of stock in the kitchen, adding only ingredients it needs and checking its progress over time. I took a lot of enjoyment from smashing up all the leftover Halloween pumpkins and putting them into the mix. Materials like these and other green waste bring heat from bacterial breakdown. On their own, they go soggy and exclude air, so it's important to add brown waste like cardboard, dead leaves or a few wood chippings for balance to keep air in the heap. With the addition of the pumpkins, I had record temperatures of 65oc in the centre of the heaps with outside air temperatures in single digits. When the heap slumps down and the internal temperature cools, I turn the whole lot into an empty bay that incorporates more oxygen and I should have finished compost within 4 months The Dalek shaped bins most people have in gardens with occasional additions may never go above 30-40 oc and will decompose more slowly and in a more fungal way, which is fine it just won't kill weed seeds.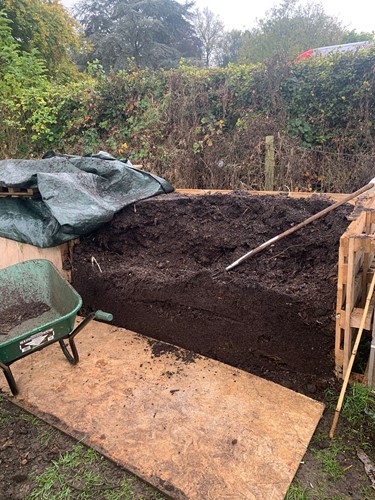 I finished expanding the garden with 3 more beds this month, made with only our own homemade compost. It will be interesting to see how growth compares to the older beds made with brought in manure and mushroom compost, I have a feeling there will be no competition! Although I will be taking holidays and planning for next spring (ideally next to a toasty log fire!), any keen gardener should look at these winter months as a time for being out there as much as possible, creating foundations for successful growth in the year ahead.
My new recipe is up - KALE, ROAST GARLIC & PUMPKIN SEED PESTO
Happy Christmas! Until next time…
Darren Stephens
Chef-Gardener, Homewood