Christmas… At no other time of year does the garden need you less and friends and family need you more…or in my case, it was the kitchen that needed me more. I barely picked up my secateurs in December as I switched my focus to helping out the chefs for a bustling festive period. As the garden lay carpeted in snow for the better part of the month I was happy to be in the warm and dry. 
I can't be the only one to breathe a sigh of relief at the end of December. When the festivities are over and a new start can be made, we can take control of our lives and our gardens once again in January. I have a lot on my to-do list because once again the kitchen garden at Homewood and also at Bishopstrow hotel are going to be bigger and better than ever. Here are a few things that are upcoming in 2023.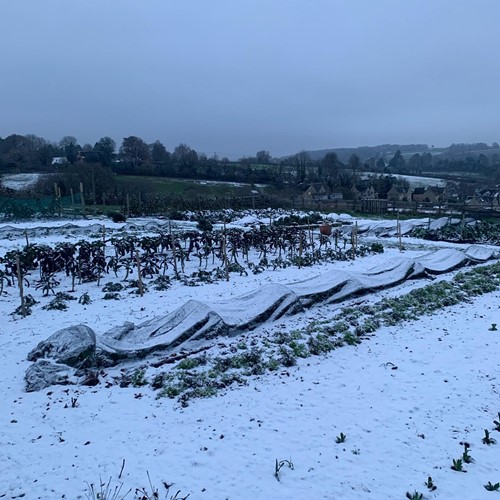 Bees. We now have our very own bee hives! They are located a short distance from the kitchen garden where we will create our own honey from bees that feast off all the flowers to create a real flavour of the kitchen garden.
Cut Flowers. I have created a new growing space that will be dedicated to cut flower production for floral displays within the hotels. This will bring all the same benefits as growing our own veg where I hope to reduce our need to buy flowers from long distances and abroad. Working closely with our exceptional florist Sky Roantree, I will endeavour to add another feather to my cap as I try to learn as much as I can as fast as I can about farming flowers. I am already off to a flying start with over 1200 tulip and daffodil bulbs and a dozen rose shrubs in the ground.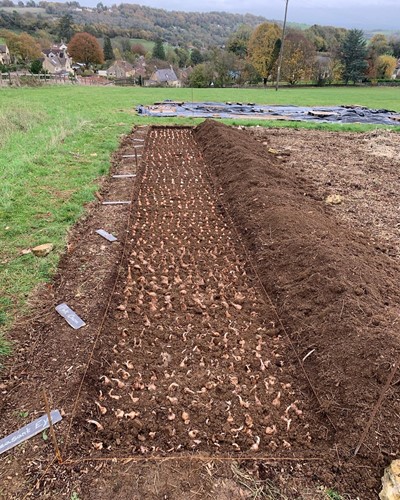 New no-dig dining experiences. With more growing areas for vegetables now underway for a greater variety of produce, I hope to share it all with our guests in refreshing and engaging ways. Look out for new dining dome experiences and pop-up dinners in late spring.
If like me, you have yet to order your seeds for 2023 then that is exactly what you have to do in January. I shall be sowing before February arrives this year in anticipation of another very warm year ahead.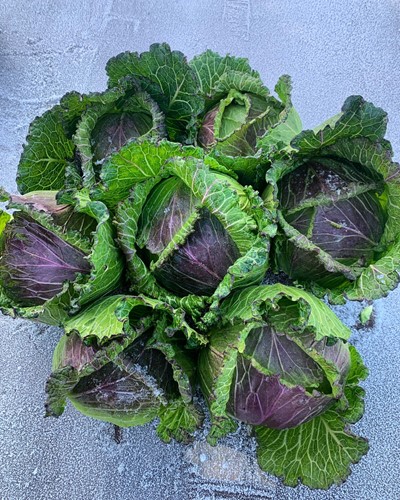 I have always preached the use of open-pollinated seed varieties, also called heirloom or heritage. These older variates are more genetically diverse having reproduced naturally and exchanged characteristics from generation to generation adapting to their climate and environment. But after growing for two years now I realise they do have their disadvantages. The uniformity of our 'greyhound' cabbage in late summer varied from nice tight cones that the chefs prefer for portion-size grilling to huge watermelon-size heads which can only be used for slicing. Both are delicious but consistency would make for more efficient harvesting. I also lost around a quarter of my Radicchio as they did not make reliably firm heads, instead just large loose foliage. This is where (in some cases) a switch to F1 hybrid varieties will be more efficient. These seeds are created by crossing two different varieties of the same plant in a controlled environment over and over in an attempt to tease out the best genetic traits of both parent plants and combine them in a hybrid seed. One trait would be a very high percentage of the seeds producing a more uniform size vegetable. I find salads, legumes and tomatoes are fine from open-pollinated seeds, but not crops that form firm heads. For the time and space some crops need to grow, it's just not worth messing around with something unpredictable.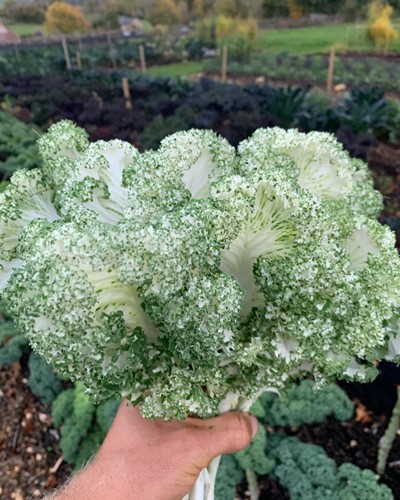 The resilience of winter crops in the garden never ceases to amaze me. Romanesco foliage slumped from its upright position to lying stiff on the frozen soil. Brussel sprouts froze as solid as golf balls and spinach leaves were not even visible for days under a carpet of snow. But all have brushed it off like it wasn't a thing, and are ready to go again.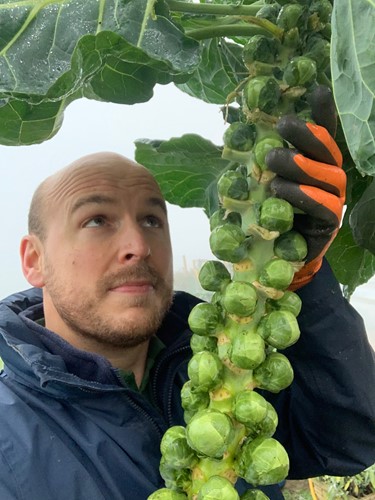 So here's to 2023 in all its gloriousness! Here's to you all, who have come to share the abundance of Homewood's kitchen garden with loved ones and little ones and four-legged ones. I wish you all a beautiful and productive year ahead.
My new recipe is up - SHAVED BRUSSEL SPROUTS, LEMON TAHINI, CHILLI, GOATS CHEESE & PISTACHIO
Until next time…
Darren Stephens
Chef-Gardener, Homewood