What a month that was! The driest July since 1935 and a new record-high temperature, thankfully it wasn't recorded in Somerset - although it did peak at 34C here. 4 am starts allowed me to get the basics done on the hottest days. It also allowed me the rare joy of watching the summer sunrise over the Salisbury plains giving highlighted colour to the valley as a peaceful kitchen garden feasted on its early rays. Blissful moments before some hot and sweaty days.
Watering was obviously the big issue of July for many growers and will continue into August with talk of droughts and reduced harvests. The cracked ground around the borders shows the signs of arid conditions as the clay soil contracts in the heat. Established crops like asparagus (now ferns), beetroot and parsley are deep-rooted and well adapted to seeing out dry spells and have had no need for water just yet. The no-dig method has helped the beds retain moisture, the fresh layer of compost I add to the beds before I replant them acts as a sun block and shields the original top layer of soil from evaporation.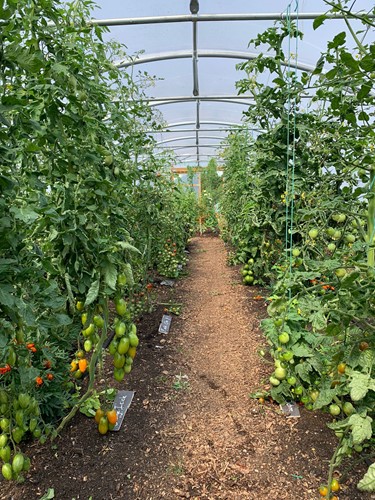 Transplanted crops in their first week and salads are a priority for water, but topping the list are all fruiting crops in the polytunnel, especially my tomatoes - my absolute favourite crop to grow. The complex sweet/acidic flavour profile that varies between each different type is unmatched by any other crop. It's the only time you'll find tasting notes on a seed packet. I'm growing 12 varieties in all, about 80 plants. I grow them as cordons trained up single string pinching off all side shoots as they reach upwards. They are tough plants and can handle a fair bit of abuse but are also very reactive to environmental conditions. Last year I lost quite a few to blossom end rot early on, then they caught blight not long after. I made myself some notes to follow closely this year for a bumper crop of full flavour tomatoes:
-Keep water off all leaves from mid-July, now is blighty weather and it loves damp leaves
-Be tough and pinch out the tops of tomatoes first week of August to concentrate energy on ripening set fruit not creating more flowers that will never have time to produce fruit and ripen 
-Keep plants well-watered as they establish then reduce watering significantly once the fruits start to ripen. Too much water can dilute the flavour components, but don't let them wilt!
-Don't let ripe fruit stay on the plant, it's a busy organism growing, flowering, setting fruit, swelling fruit, and ripening fruit. The less it has to do, the better it can do it!
-Make a green tomato chutney at the end of the season rather than compost them all, the seeds of unripe tomatoes survived the composting process and plants have been popping up around the garden all summer.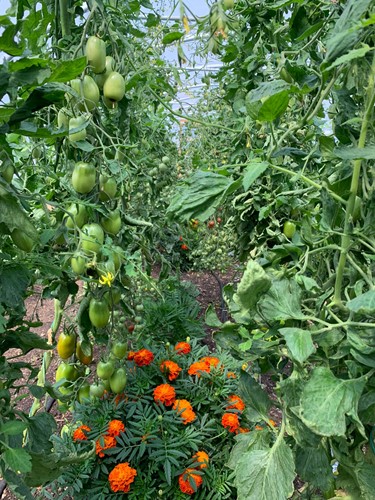 Another note I am making for myself next year is to watch out for signs of Red Spider mite when growing anything in a dry enclosed space. They are hard to stop naturally, spread quickly and will slowly kill your plant. I have had to remove many plants already, it's a miserable list. You can buy natural predators in May, at an expense. Being aware of early signs is key like super fine webbing and light-mottled yellow colouring on the leaves.
Much of the garden is now replanted with autumn/winter kales, chicories and leeks, and this will continue as we head into another busy sowing period, a bit like a second spring. Top sowings are fennel, salad rocket, mustard leaves, pak choi, land cress, chervil, dill, parsley and spinach which last year cropped from September right through to May.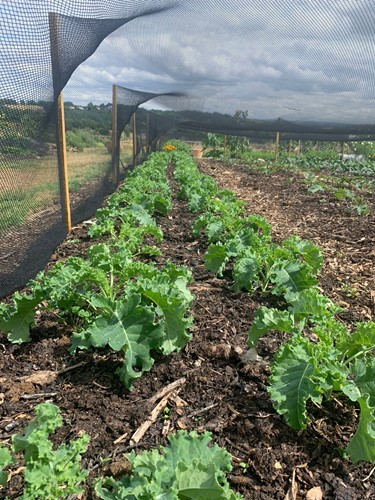 Making their way to the chefs currently are fennel, mixed varieties of beetroots and carrots, courgettes, salads, aubergines, beans and first of the autumn raspberries.
All onions are now pulled too and I was delighted with the harvest. 'Red Baron' and 'Roseanne' onions are 'curing' in the summer sun and shallots are already in storage. These should keep well and allow me to supply the kitchen with goods in the quieter months. All this gives me plenty of inspiration for the next pop-up no-dig dinner on the 16th of August. Expect smoked aubergine with chilli, honey and thyme, the tastiest tomatoes, summer beans with herbs and elderberry capers, raspberries with lemon verbena and caramelised puff pastry, along with a few surprises.
My new recipe is up - HERITAGE TOMATO SALAD, ISRAELI COUSCOUS, AVOCADO & BASIL
Until next time…
Darren Stephens
Chef-Gardener, Homewood