"Lowest average minimum temperatures since 1922…."  "Frostiest April in 60 years….."
These were the stats for my first month of growing in the 'no-dig' garden (last years April happened to be one of the warmest on record).  I really got a taste of the challenges of growing on such an exposed site; no rain and desiccating winds blowing in from the north and east dried out the all beds, and no matter how long you soak a bed with a hose it will just never get wet like a good rain shower.
I feel I may have jinxed early flowering Magnolias with last month's recipe as the endless frosty nights caused them to lose their blooms. My first transplanted lettuce didn't grow at all over April and the frost nearly wiped out my first planting of 800+ radishes. A simple mistake of not pulling the protective fleece tight enough over the bed meant that any material touching the leaves caused frost damage turning them yellow. Fortunately, this doesn't kill the plant just stunts the growth. A second sowing late April has caught up with the first already, resulting in quite a few radishes all at once for the kitchen. Radish soup anyone?
Now the rains are most definitely here, and all is starting to feel abundant. One crop I have had success with is mustard leaves. Varieties 'Golden Frills' and 'Ruby Streaks' in particular seem to put up with the weather extremes well. 'Freckles' lettuce is a stunning variety I have never seen before too.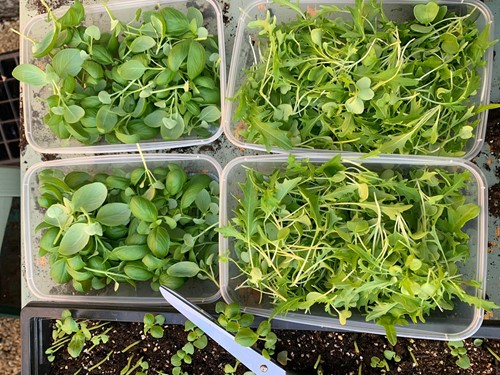 I took great joy in the exodus of February and March sown seedlings that I've been juggling around over the spring squeeze at home, and transplanting them into beds. Dozens of much sort after modular trays have suddenly become available again for sowings of frost tender flowers, courgettes, Crown Prince and Queensland Blue squash.
I can't tell you how much I'm looking forward to the arrival of our new poly tunnel, it will make the garden a serious growing space. It will also be nice to clear my house of all plants so the dinning room won't smell of compost.
Planting asparagus crowns is not a regular job in any garden, but one I was keen to do before I missed the window. They should crop for up to10 years but that doesn't include the first two when you should leave them be to let roots establish.
The 'no-dig' system is proving effective at holding back most weeds. Couch grass is currently putting up the most resistance, with its dense network of underground roots it's not giving up without a fight. I'm staying true to the 'no-dig' principles though and just re-covering with cardboard mulch rather than digging up.
First early potatoes, Longor shallots and mange tout  are well on their way and were a very welcome bit of early greenery to the bare garden.
I'm very pleased with our first raised bed with sides, made of wooden sleepers and Cotswold stone on the ends. I am using it strictly for Mediterranean herbs with an extremely gritty and impoverished soil to make them feel at home as all other beds are made up of manure and mushroom compost
The garden has been an absolute pleasure to be a part of since starting from scratch in January and not just an antidote to lockdown. I feel an attachment to it already as I immerse myself in all things gardening. My lack of knowledge in all aspects has been frustrating but reassurance came from Steve, our head gardener at Homewood for the best part of 30 years, who insisted you will never stop learning, no matter how extensive your experience.
The first pickings of salad leaves, spinach, radish and micro-herbs have now made their way to the kitchen with high praise from the chefs after an incredibly busy opening month.
The 'no-dig' garden is a stone's throw away from the outside dining terrace, and it's been a little lonely, to be honest, especially on warm sunny lunchtimes when I can smell and hear the buzz of a busy service. I don't work with headphones in or even a radio, I prefer being aware of  everything around me and its easy enough to get lost in thought out there. 
I do have a clueless pheasant and a rather large crow that keep me company…it really is a world away from the kitchen. 
Being outdoors without shelter all day long amongst the elements does take its toll on the skin too, but I would take it over oven burns and lack of sunlight in the kitchen any day. Next week is a huge day for the hospitality industry. Hotels and restaurants can finally open their doors and allow us all one big step toward normality, let's hope it's third time lucky.
My new recipe is up - British asparagus, goats curd and yuzu
Bring on 17th May,
Darren Stephens
Chef-Gardener, Homewood