'Big Green Egg' Barbecue Dining Domes
For the adventurous
And now for something completely different - your very own 'Big Green Egg' barbecue dining experience, nestled amongst the tree line of our lawns, with unbroken views over the hotel grounds.
Welcomed onto our lawns with a glass of Taittinger Champagne, a three-course dining extravaganza awaits. Whilst enjoying a mezze platter to start, you'll have your very own 'Big Green Egg' barbecue butler grilling your main event, you can also have a go at becoming a grill master yourselves! There's plenty of time to grab those 'Instagrammable' shots whilst sipping on a glass of wine before pudding is served to your dome.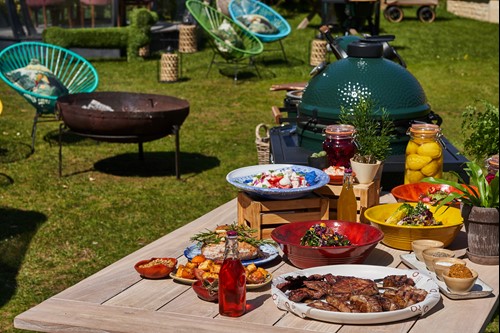 Lunch - £50
Afternoon Tea - £50
Dinner - £75
These exciting domes can accommodate a maximum of eight guests and a minimum of four. Should you wish to hire the dome for less than four, a hire charge of £100 will apply.
Children aged 12 and under may dine half price, including three courses and soft drinks.
All domes are complete with a Dyson Air Blade, enabling you to heat or cool your dome to your required temperature.
Our 'Big Green Egg' experience is available seven days a week until October, from 12-3pm or from 7-10pm. Afternoon tea is also available from 4-6pm.
All bookings require a credit card guarantee to secure. Our bookings do not require a deposit; however, reservations must be cancelled 48 hours prior to arrival to avoid a charge of £25 per person - which will be charged to the card provided.