'Big Green Egg' Barbecue Dining Domes
For the adventurous
Flavour awaits with your very own 'Big Green Egg' barbecue dining experience, nestled amongst the tree line of our lawns, with unbroken views over the hotel grounds.
Welcomed with a glass of Taittinger Champagne, a three-course dining extravaganza awaits. Whilst enjoying a tapas platter to start, you'll have your very own 'Big Green Egg' barbecue butler grilling your main event, you can also have a go at becoming a grill master yourselves! There's plenty of time to grab those 'Instagrammable' shots whilst sipping on a glass of wine before pudding is served to your dome.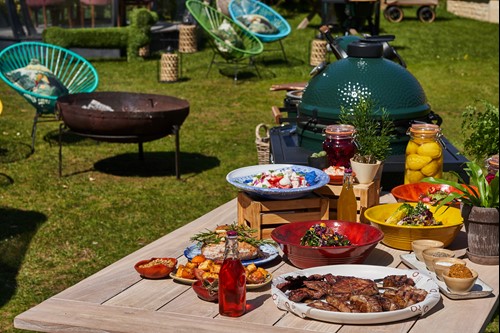 Lunch Monday-Friday - £60
Lunch Saturday, Sunday & Bank Holidays - £80
Afternoon Tea - £55
Dinner - £80
These exciting domes can accommodate a maximum of eight guests and a minimum of four. Should you wish to hire the dome for less than four, a hire charge of £100 will apply.
Children aged 12 and under may dine at £25pp.
All domes are complete with a Dyson Air Blade, enabling you to heat or cool your dome to your required temperature.
Our 'Big Green Egg' experience is available seven days a week until October, from 12-3pm or from 7-10pm. Afternoon tea is also available from 4-6pm.
All bookings require a credit card guarantee to secure. Our bookings do not require a deposit; however, reservations must be cancelled 48 hours prior to arrival to avoid a charge of £25 per person - which will be charged to the card provided.