MOVE OF THE MONTH:
Exercise: Child's Pose  
Targets: Lower Back, Hips, Thighs, Ankles 
Technique: Child's Pose is a gentle stretch for the back, hips, thighs, and ankles. It can also help relieve back pain. 
1. Come to your hands and knees on the mat. 
2. Spread your knees as wide as your mat, keeping the tops of your feet on the floor with the big toes touching. 
3. Bring your belly to rest between your thighs and your forehead to the floor. Relax the shoulders, jaw, and eyes. If it is not comfortable to place the forehead on the floor, rest it on two stacked fists. There is an energy point at the centre of the forehead in between the eyebrows that stimulates the vagus nerve and supports a "rest and digest" response. Finding a comfortable place for the forehead is key to gaining this soothing benefit. 
4. You can either stretch your arms in front of you with the palms toward the floor or bring your arms back alongside your thighs with the palms facing upwards.  
5. Stay as long as you like, eventually reconnecting with the steady inhales and exhales of your breath. 
FOOD/RECIPE INSPIRATION: 
Recipe: Roast sweet potato, beetroot and red onion salad.  
Ingredients:  
3 large sweet potatoes, cut into wedges (skin left on) 
4 small beetroots, trimmed and cut into wedges 
2 small red onions, cut into wedges 
Glug of olive oil 
110-120g pack baby salad leaves 
Fresh coriander leaves to serve and fresh lime wedges to serve
Recipe method: 
1. Heat the oven to 200°C/180°fan/gas 6.  
2. Toss the vegetables with olive oil and some salt and pepper in a roasting tin.  
3. Roast for 30-40 minutes until tender. 
4. Toss the roast veg in a bowl with the baby salad leaves and any dressing you have, then divide among 4 plates, sprinkle with coriander (or micro herbs) and serve with lime wedges. 
Tip: Roast the veg up to 3 hours ahead. Dress and toss just before serving.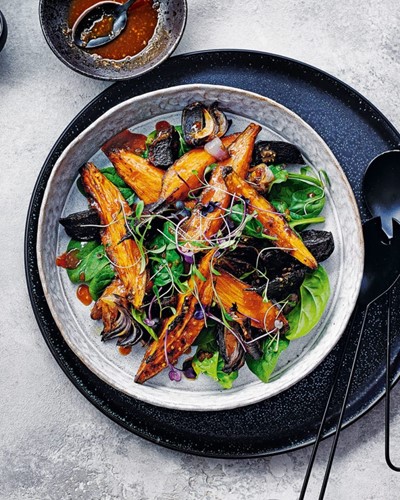 MIND GAINS / MINDFULNESS: 
The art of letting go.  
It means leaving behind what is usual and comfortable, even if those are not always in our best interest, and branching out to what might feel odd at first. Sometimes it feels easier to stay put and not take the chance. Learn to get unstuck from negative thought patterns and release unhelpful notions that you can't shake. 
1. Be your own saving grace - The person who hurt you can't be the one who saves you. The only person who can help you heal and move on is yourself. 
2. Have patience and faith - At times the hard decisions are the right ones. Just because it is difficult right now doesn't mean it will always feel and stay the same. Practice patience and have faith in yourself. 
4. Be your biggest fan - How you think, feel and talk to yourself plays a very important role in our lives. Be kind and compassionate towards yourself. How you speak to yourself helps in rewiring your thoughts. 
5. Forgive - Forgiveness doesn't always mean re-connection. Forgiving someone can bring us peace and lift a huge burden off our shoulders.  
LIFESTYLE: 
Volunteering makes us feel good about ourselves while we do something practical to help others. Volunteering also inevitably means having greater opportunities to meet other people. You could go on the extreme end and think about volunteering for an overseas project in a third world country or you could simply give up a few hours a week to help an elderly person do their shopping. In any case, realising you are more fortunate than others while you do your charity work will have a profound and lasting effect on you.   
MONTHLY QUOTE: 
"Learn to like your failures and mistakes. Every failure will teach you to become a better person".