MOVE OF THE MONTH:
Exercise: Core & Abs Blast
Technique: You may have heard Personal Trainers say "Brace your Core" – how can you do this? Well, imagine someone is about to punch your stomach, you would instantly tense up and brace those abs to take the impact. This is the same feeling as bracing your core. Another way is to pull your belly button into your spine. 
Exercises: Perform this circuit 2 times as a finisher after a workout.
1) Forearm Plank
b) Russian Twist
c) Crunch
d) Deadbugs
Do 10-12 reps or 30 seconds of each exercise. 1 Minute between Rounds.
FOOD/RECIPE INSPIRATION:
Chocolate Banana Cake.
Want to use and get rid of some of that leftover Christmas chocolate? Then try this yummy cake.
Ingredients:
3 large bananas – mashed up
150g sugar – use brown for extra richness
120ml extra-virgin olive oil
1 tsp vanilla extract
250gm plain flour (if Gluten-free flour, also add in 1 tsp of xanthan gum)
1 1⁄2 tsp baking powder
1⁄2 tsp bicarbonate of soda
1⁄2 tsp salt
1⁄2 tsp ground cinnamon (and any other spices you wish to chuck in! I always add in extra ginger, and mixed spice.)
80-100gm chocolate of choice, dark, or whatever you have lying around, chopped up.
Recipe method:
Heat over to 180c, prep an 8x4" loaf tin with spray and parchment paper.
In a large bowl, whisk together the bananas, sugar, oil and vanilla. In another bowl,
Mix the flour, (xanthan gum if GF), baking powder, bicarbonate soda, salt and spices.
stir together.
Mix the flour mixture into banana mixture until combined, it should be a thick batter.
Fold in the chocolate.
Transfer to the lined tin, smooth top and sprinkle any leftover chocolate bits on top.
Bake for 50-60min. Use a toothpick around the edges to help the cake come out clean. Once baked, allow to cool in the fridge.
Then transfer to a wire rack to cool completely.
Eat and enjoy!!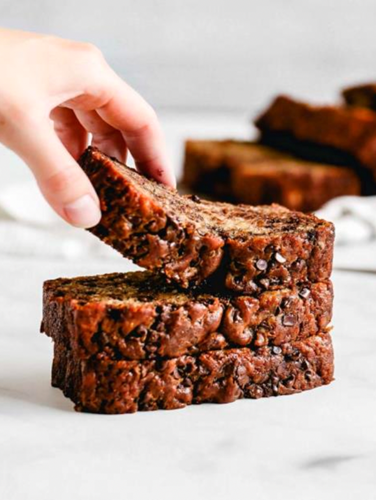 MIND GAINS / MINDFULNESS:
Need to de-stress this January? If you felt like the last few months have been a little wild and you've felt a little out of control, then this year try to manage what you can in your everyday life, regarding your routines.
My tips and what helps me..... write lists to de-stress and stay calm when life goes crazy busy:
1. To-do lists, what are you focusing on?
2. What do you want to achieve?
3. When and what do you want to eat each day?
4. When do you take breaks?
5. When will you incorporate exercise into your daily life?
LIFESTYLE:
How do you stay motivated to move and work out? Just a walk a day will make you feel better.
*Try to remember your why. What are you exercising for?
My reason is I love how it makes me feel. Finding that time in the day even if it's just 10mins, makes me feel so good, energised, and positive. It helps to clear your mind of any stress or anxieties.
*Using a notepad or workout journal, write your goals for that session, and physically tick it off once you have done it. A great visual positive tool to pat yourself on the back with. Think about how you feel afterwards - If you know exercise makes you feel great afterwards, then write it down so you remember when you start debating in your head.
*Stick to a routine- figure out what time suits you best to work out, make a habit of it. Some people love knowing that at 7 am every Thursday they go for a jog, then at 6 pm each Tuesday they book into an online yoga class. Invest your time and life to exercise and you won't regret it.
*Don't beat yourself up. Don't feel like a failure if you miss a session, everyone has bad days. It's important to listen to your body if you need to take it easy.
*Prep yourself- lay out your kit and bag the night before, so you're ready to go.
MONTHLY QUOTE:
"Dream BIG, Set GOALS, Take ACTION"