MOVE OF THE MONTH:
Exercise: Running/jogging improve your speed on your run. Or use this technique to mix up your jog and keep you interested.
Technique: Fartlek Runs - Fartlek is a Swedish term that translates as 'Speed play'. Fartlek training is about playing speed, performing boots of fast and slow running over varying distances. It's a speed game literally - a run during which you change your pace multiple times throughout a run without following a set structure. Use lampposts, trees, park benches, road marking, switching up going slow and fast-paced.
When you do a fartlek running workout, you start by running at your usual pace then you pick up the pace - usually to a medium to high speed -then try to maintain it for a random period of time or distance.
Then, you'll slow down for a few minutes before ramping up the speed again.
20min Fartlek Run Workout:
Warm-up (5 minutes): Start your run slow. Get the body moving, stop and stretch if needed and do some mobility exercises along the way. Gradually increase the intensity from slow to moderate pace. Run right into the main set.
Main Set (12 minutes): Run 1 minute hard. Jog/walk 1-minute easy repeat x 6. During each interval of hard running, ease into faster and faster gears. Don't start out at crazy speeds. Gradually work your legs out till you feel you can go full speed the last few intervals.
Cooldown (3 minutes): Jog/walk and stretch - use a foam roller.
FOOD/RECIPE INSPIRATION:
Winter warmer - carrot & coriander soup.
Ingredients:
1 tbsp veg oil
1 onion, chopped
1tsp ground ginger
1 tsp ground coriander and fresh for top
1 potato, peeled & chopped
450g carrots, peeled & chopped
1.2l vegetable stock or chicken stock
Recipe method:
Heat 1 tbsp of vegetable oil in a large pan, add 1 chopped onion, then fry for 5 mins until softened.
Stir in 1 tsp of ground coriander and 1 chopped potato, then cook for 1 min.
Add 450g of peeled and chopped carrots and 1.2l of vegetable or chicken stock, bring to the boil, then reduce the heat.
Cover and cook for 20 mins until the carrots are tender. Tip into a food processor with a handful of coriander then blitz until smooth (you may need to do this in two batches). Return to pan, taste, add salt if necessary, then reheat to serve.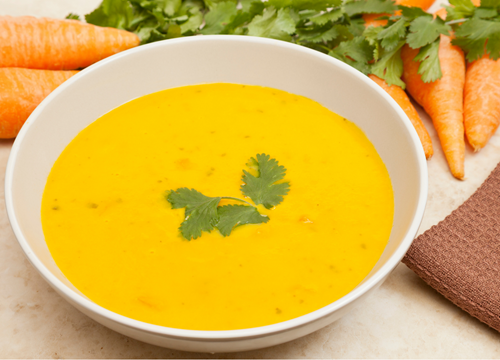 MIND GAINS / MINDFULNESS:
Set Your intentions: Intentions are different from goals – they're about how you want to feel, rather than goals that are more of a tangible or performance outcome. Help yourself to get a clear vision and pathway about how you want to feel in the year ahead. Think about what you're willing to say YES to and what you need to decide to say NO to.
Write a list of "say yes to", "say no to", and check in monthly on these intentions. A lot can happen in a year and it's easy to forget all of those small shifts you make all the time.
LIFESTYLE:
February is Heart Health Month, and not just because we'll see hearts everywhere for Valentine's Day! When you think of heart health, eating nutritious foods and exercising are some of the most important things to keep your heart at peak performance. Diet plays a major role in heart health and can impact your risk of heart disease.
In fact, certain foods can influence blood pressure, triglycerides, cholesterol levels and inflammation, all of which are risk factors for heart disease. Here are some foods that you should be eating in your weekly diet to maximize your heart health.
1. Leafy green vegetables: Like spinach, kale, and collard greens are well known for their wealth of vitamins, minerals and antioxidants. In particular, they're a great source of vitamin K, which helps protect your arteries and promote proper blood clotting.
2. Whole grains: Like whole wheat, brown rice, oats, rye, barley, buckwheat and quinoa. Refined carbohydrates increase the risk of coronary heart disease. Conversely, whole grains are protective. An extra 1 or 2 servings per day of these foods increases or decreases risk by approximately 10% to 20%.
3. Berries: Strawberries, blueberries, blackberries and raspberries are jam-packed with important nutrients that play a central role in heart health. Berries are also rich in antioxidants like anthocyanins, which protect against the oxidative stress and inflammation that contribute to the development of heart disease.
4. Avocados: Are an excellent source of heart-healthy monounsaturated fats, which have been linked to reduced levels of cholesterol and a lower risk of heart disease. Avocados are also rich in potassium, a nutrient that's essential to heart health.
MONTHLY QUOTE:
"Love many things, for therein lies the true strength, and whosoever loves much performs much and can accomplish much, and what is done in love is done well." – Vincent van Gogh